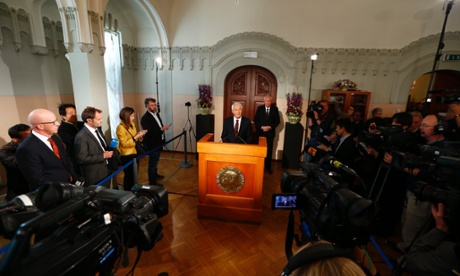 Interesting article by The Guardian's Nancy Goldstein recently, suggesting that the Nobel Peace Prize, whilst holding many high ideals, repeatedly snubs the LGBT community:
First of all, congratulations to the Organization for the Prohibition of Chemical Weapons (OPCW), which has just won the 2013 Nobel Peace Prize. Only a curmudgeon of the highest order would begrudge giving this honor to an organization devoted to eliminating chemical weapons, most currently in Syria.

Still, I have a bone to pick with the Nobel selection committee – namely that they don't appear to have considered the work of even a single LGBT activist or organization during a year when dozens could have qualified from Eastern Europe alone. For goodness sakes, bookies were posting odds for Russian President Vladimir Putin for allegedly helping to bring "peace" to Syria, despite his role as one of the key architects of the trifecta of recent laws that criminalize virtually every aspect of being or seeming to be LGBT in Russia...

Russian LGBT activists themselves were quick to say that they had not yet done enough to end human rights violations and to recommend others for the Nobel Peace Prize. Journalist Masha Gessen, the target of the Kremlin's recent efforts to strip children from LGBT parents, thought the prize should go to the founders of Breaking the Silence for their work in Israel and Palestine. Nina Long, co-president of RUSA LGBT, recommended human rights activist Ludmila Alekseeva and Pussy Riot, whose members have been sent to remote Russian prison camps to die for speaking out against Putin's repressive regime. Yelena Goltsman, Long's co-president and the founder of RUSA LGBT supported a prize that would recognize David Kato of Uganda, who was murdered for working to end homophobia in his country.